Top Ten Tuesday is hosted by The Broke and the Bookish. Every Tuesday they post a new Top Ten list prompt. This week's prompt is… Ten Books on my Spring TBR pile.  I'm constantly adding books, so it would be easy to go way over this week, but here are 10 I'm planning to read soon. I've been doing a lot of cozy mystery blog tours, so the list is full of those this week! Be sure to leave me a link to your own post or just mention the books you're looking forward to reading this Spring in the comments below.
10. The Secret of Dreadwillow Carse by Brian Farrey


A middle-grade book I won – hoping to get both of my girls to read it as well!
9. Killer Librarian by Mary Lou Kirwin (Killer Librarian series #1)


I actually bought this one just because I saw it in Barnes and Noble and wanted to read it. Haven't done that in a while!
8. Anna and the Swallowman by Gavriel Savit


A young-adult ARC I won from the publisher. I love this cover – there's something just a little creepy about it…
7. House of the Hanging Jade by Amy M. Reade


For an upcoming blog tour.

6. The Final Tap by Amanda Flower (Living History Museum #2)


Another upcoming tour 
5. A Clue in the Stew by Connie Archer (Soup Lover's Mystery #5)


For a blog tour. And # 5.5 on my list – A Spoonful of Murder (Soup Lover's Mystery #1). It's been sitting on my bookshelf and I'm hoping to read it first.
4. Silence of the Lamps by Karen Rose Smith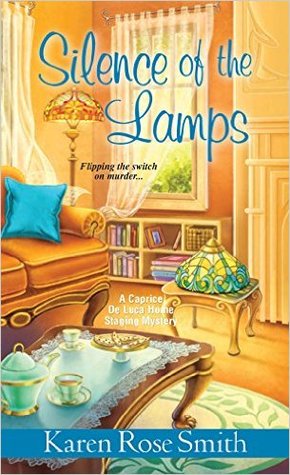 Another tour. This one has such a cozy cover. I want to sit there and read!
3. Between Good and Evil by R Michael Phillips


Something different – another blog tour, but not a cozy this time.
2. The Skeleton Garden by Marty Wingate (Potting Shed Mystery #4)


Just about to start this one…
1. Girl on the Run by Daryl Wood Gerber


I'm excited for this one – something very different coming soon from one of my favorite cozy authors!