Escape From Mr. Lemoncello's Library
by Chris Grabenstein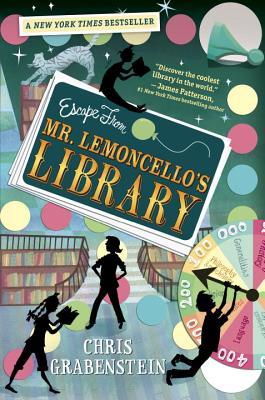 Rating:**** (4 of 5 stars)
Kyle Keeley loves games. Especially games created by the fabulous Mr Lemoncello. When the new library comes to town and offers 12 lucky essay contest winners a chance to be the first to see it by participating in an overnight event full of food, games, and prizes, Kyle decides he has to be one of the participants. Even better, he discovers that none other than Luigi Lemoncello himself is the mastermind behind the incredible new library.
Once the overnight event is finished, Kyle and the other 11 winning students find themselves still locked in, and invited to participate in one more game. They have to find a way to escape from Mr. Lemoncello's library. With the clues provided in the puzzles and games presented to them, and an entire library at their fingertips, Kyle and his team of friends have to use all of their wits to win the game and find the exit before time runs out.
This was a fun story full of references to books I loved as a kid. My daughter had fun trying to figure out the puzzles as the story went along, and it kept the whole family entertained. We're looking forward to the next installment in this series.
Purchase from Amazon
Purchase from Barnes and Noble