The Mine by John A. Heldt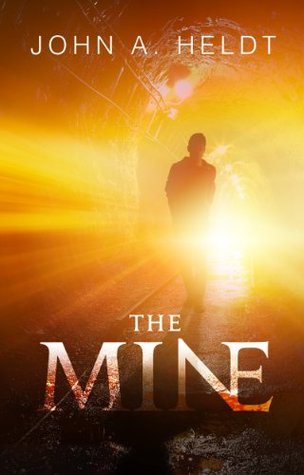 Description from Goodreads:
In May 2000, Joel Smith is a cocky, adventurous young man who sees the world as his playground. But when the college senior, days from graduation, enters an abandoned Montana mine, he discovers the price of reckless curiosity. He emerges in May 1941 with a cell phone he can't use, money he can't spend, and little but his wits to guide his way. Stuck in the age of swing dancing and a peacetime draft, Joel begins a new life as the nation drifts toward war. With the help of his 21-year-old trailblazing grandmother and her friends, he finds his place in a world he knew only from movies and books. But when an opportunity comes to return to the present, Joel must decide whether to leave his new love in the past or choose a course that will alter their lives forever. THE MINE follows a humbled man through a critical time in history as he adjusts to new surroundings and wrestles with the knowledge of things to come.
Genre: Fantasy / Time Travel / Historical Fiction
Rating: *** (3 of 5 stars)
The Mine is a story about a young man's accidental journey from the year 2000 into the past, just prior to WW2. Joel Smith and his friend Alan take a detour during a road trip, and discover an abandoned mine. A determined Joel decides to investigate, leaving his friend, and his timeline, behind him. Arriving in 1941, he eventually befriends a young man named Tom, and joins Tom's circle of friends and family.
I wasn't sure how I felt about Joel near the beginning of the book, when he first arrived in the past. He seemed to take almost everything in stride, with no strong emotion struggle, and no real refusal to believe what was happening. I had a hard time accepting that, but it could be because I don't think that it is how I would have reacted in his situation! 🙂
The author did a great job of making you feel that you were there in pre-war 1941, however. As I was introduced to Tom and his friends, I became more and more invested in Joel's situation, and in his developing romance. I felt that he did mature somewhat as the story went on, and he realized what harm his advanced knowledge of the war and of Tom's future could wreak. As close as he had grown to his new comrades, he really struggled with the decision to stay or go once the opportunity to return to his own time finally arose.
All in all, I enjoyed this story. While it may have been a little slow to start, it developed into a sweet story of friendship and true love. Fans of time-travel romance should like this one, and the next 4 books in this series!
**Disclaimer – I received a free copy of the book from the author in exchange for an honest review**
About the Author:

John A. Heldt is the author of the critically acclaimed Northwest Passage and American Journey series. The former reference librarian and award-winning sportswriter has loved getting subjects and verbs to agree since writing book reports on baseball heroes in grade school. A graduate of the University of Oregon and the University of Iowa, Heldt is an avid fisherman, sports fan, home brewer, and reader of thrillers and historical fiction. When not sending contemporary characters to the not-so-distant past, he weighs in on literature and life at johnheldt.blogspot.com.
Connect with John online:
Blog: http://johnheldt.blogspot.com
Facebook: https://www.facebook.com/johnaheldt
Amazon: http://www.amazon.com/John-A.-Heldt/e/B007A23EQS
Indie View: http://www.theindieview.com/indie-authors/john-a-heldt/
Goodreads: https://www.goodreads.com/author/show/5754231.John_A_Heldt
Shelfari: http://www.shelfari.com/authors/a1002681160/John-A-Heldt/
Twitter: https://twitter.com/johnheldt