The Diviners by Libba Bray
Narrated by January LaVoy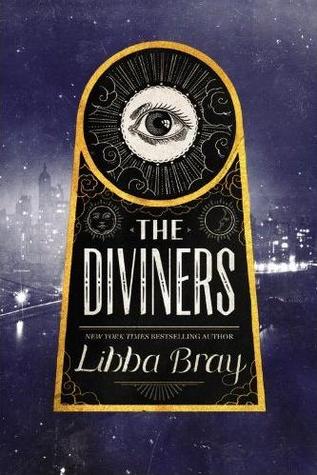 Goodreads description: 
Evie O'Neill has been exiled from her boring old hometown and shipped off to the bustling streets of New York City—and she is pos-i-tute-ly ecstatic. It's 1926, and New York is filled with speakeasies, Ziegfeld girls, and rakish pickpockets. The only catch is that she has to live with her uncle Will and his unhealthy obsession with the occult.
Evie worries he'll discover her darkest secret: a supernatural power that has only brought her trouble so far. But when the police find a murdered girl branded with a cryptic symbol and Will is called to the scene, Evie realizes her gift could help catch a serial killer.
As Evie jumps headlong into a dance with a murderer, other stories unfold in the city that never sleeps. A young man named Memphis is caught between two worlds. A chorus girl named Theta is running from her past. A student named Jericho hides a shocking secret. And unknown to all, something dark and evil has awakened.
Genre: Paranormal / Historical / Mystery / Thriller / Young Adult
My Rating: ***** (5 of 5 stars)
"There is a hideous invention called the Dewey Decimal System. And you have to look up your topic in books and newspapers. Pages upon pages upon pages…" ~ Evie O'Neill
First off, I have to say that I was ABSOLUTELY RELIEVED to find out that this is, in fact, the first book in a series – I did not want to say goodbye to these characters. I picked it up from the library on a whim, and was so glad that I did. I now have a hold placed on Lair of Dreams (book #2), and can't wait for my turn to listen to that one too.
Evie O'Neill is a seventeen year old flapper with a gift – the gift of "reading" an object to discover its owner's secrets. After an impromptu reading at a party gets her in trouble at home in Ohio, she is sent to live with her Uncle Will in New York. Her uncle runs a museum of the paranormal, and is called in by the police to help look into a string of unusual murders. Hoping to secure a permanent place in New York, Evie joins her Uncle Will's team and helps investigate.
Libba Bray has done a wonderful job of transporting the reader back to 1920's New York. I could almost see the flapper dresses and cloche hats, and hear the music and the clinking of glasses in the speakeasy clubs. The book would be worth reading for the glimpse into the past alone, but it has so much more to offer. Mystery, danger, secrets, powers, music, romance – I could go on and on!
I listened to this book, rather than reading a print edition, and I would highly recommend it. January LaVoy did an amazing job of bringing each character to life with his or her own voice and inflections. This was no small feat considering the size of the cast of characters she had to work with! I hope she will continue to read the rest of the books in this series as they are published.
If you've read The Diviners, I'd love to hear your thoughts!