What Are You Reading Wednesdays is a weekly meme hosted by It's A Reading Thing. To participate, open the book you are currently reading to page 34 (or 34% in your ebook) and answer these three questions.
The Questions are:
1. What's the name of your current read?
2. Go to page 34 in your book or 34% in your eBook and share a complete sentence. (or two!)
3. Would you like to live in the world that exists within your book? Why or why not?
Now for my answers this week…
2. Lair of Dreams by Libba Bray – Book #2 of the Diviners series
I'm listening to the audiobook, and January LaVoy is narrating again – yay! (See my review of the audiobook edition of The Diviners if you don't know why I'm so happy about that.)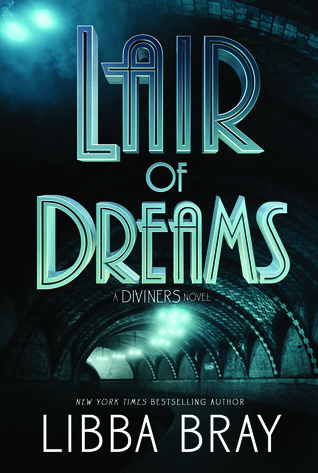 2. Well, it's an audiobook, so it's hard to find page 34! 🙂 Here are a few random quotes instead….
For dreams, too, are ghosts, desires chased in sleep, gone by morning.
It was funny how one afternoon with a best friend could set a girl right.
This is how it is now. There is strength in acceptance, Ling. Your legs have been taken from you. But how you choose to live with that has not.
3. The story takes place in the 1920's in New York City. I'd love a peek, but I wouldn't want to stay. Couldn't do without all of my more modern conveniences, or my right to vote!!
What's everyone else reading this week?