The Library at Mount Char
by Scott Hawkins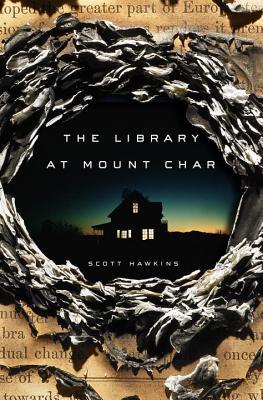 Goodreads Description:
Carolyn's not so different from the other human beings around her. She's sure of it. She likes guacamole and cigarettes and steak. She knows how to use a phone. She even remembers what clothes are for.
After all, she was a normal American herself, once.
That was a long time ago, of course—before the time she calls "adoption day," when she and a dozen other children found themselves being raised by a man they learned to call Father.
Father could do strange things. He could call light from darkness. Sometimes he raised the dead. And when he was disobeyed, the consequences were terrible.
In the years since Father took her in, Carolyn hasn't gotten out much. Instead, she and her adopted siblings have been raised according to Father's ancient Pelapi customs. They've studied the books in his library and learned some of the secrets behind his equally ancient power.  (read more)
Genre: Dark Fantasy / Horror
My Rating: **** (4 stars)
Every now and then I see a cover and / or book title so frequently that I decide I have to read it, even if i have only the vaguest idea what it might be about. That was the case with The Library at Mount Char. I'm glad I didn't read  any reviews or dig too deep before starting this one, or I might have passed. I don't usually go for excessive violence and gore, but sometimes a story is so well-told that I find it worth cringing through to read it. The Library at Mount Char was definitely worth the cringing!
The characters and situations in this story were so unique and yet believable, that I had a hard time putting the book down. Mr. Hawkins also must have a somewhat twisted sense of humor. I don't know if I was supposed to be laughing, but there is a scene involving a character named Steve and 2 lions that had me chuckling out loud.  I was also pleased at how in-the-dark he manages to keep the reader, and how much fun it was figuring out what was actually going on as the story progressed. While I can't say that I was particularly fond of any of the characters, it was hard not to root for Carolyn, at least to a degree, and to cheer as some others finally got their comeuppances. I do hope that there will be a second book coming sometime in the future. While not a cliff-hanger by any means, it does end in such a way that the story could be continued.
If the gore and language don't bother you, I would definitely recommend this one!
Warnings: This book is full of graphic violence and gore including, on occasion, sexual violence. It also includes large quantities of graphic language. It is NOT a kids' book.
NOTE: I received a free digital copy of this book from NetGalley in exchange for my honest review.