Death of a Nurse by M. C. Beaton
Hamish Macbeth #31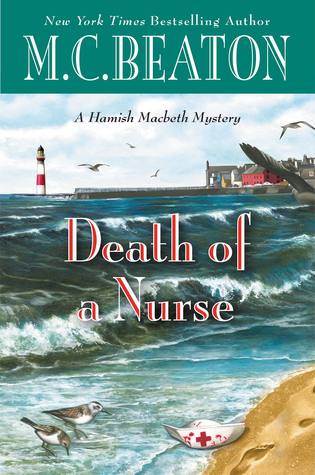 Goodreads description:  
M. C. Beaton's New York Times bestselling Hamish Macbeth series continues with a new mystery featuring Scotland's most quick-witted but unambitious policeman.
James Harrison has recently moved to a restored hunting lodge in Sutherland with his gorgeous private nurse Gloria Dainty. When Hamish visits Mr. Harrison to welcome him to the neighborhood, the old man treats him very rudely. Gloria apologizes for her employer's behavior, and Hamish takes the plunge and invites her out for dinner. On the appointed evening, Hamish waits for Gloria at the restaurant. And waits. Gloria never shows up. Four days later, Gloria's body washes up on the beach near Braikie. Now without a date and without his former policeman Dick Fraser (who left the force to buy a bakery), Hamish must find out who killed the beautiful new resident of Sutherland, and why, before the murderer strikes again….
On sale 2/23/16 from Grand Central Publishing, but available for pre-order now.
Enter the Rafflecopter Giveaway (ENDED) for a chance to win a print copy! (US and Canada addresses only please)
Genre: Cozy Mystery
My Rating: ***** 5 of 5 stars)
Poor Hamish. He's still as unlucky at love as he ever was. After spying an attractive nurse, Gloria, while out making rounds on his beat, he arranges to meet her for dinner. He's stood up, and only finds out several days later that the nurse has been murdered.
Gloria's employer, Mr. Harrison, soon has a new nurse, and it doesn't take long before there is another body, and another murder for Hamish and his new constable Charlie to investigate. Instead of having to deal with Inspector Blair as usual, Hamish is at first pleased to find the case being handled by Inspector Fiona Hemming, but it becomes all too apparent that her interest is as much in Charlie as it is in solving the case, and she has little use for Hamish. The killer is no match for Hamish's intuition and power of deduction, however. Luckily for Inspector Daviot, Hamish is only interested in seeing justice served and getting back to his quiet highland existence, so he has no qualms about once again letting his superiors take credit for solving the case.
All of the usual suspects make an appearance, Dick and Anka, Elspeth, and of course Priscilla. This book was so typically Hamish, and I loved it. Fans of the series should really enjoy this one, but the mystery would work as a standalone as well.
NOTE: I received a free copy from NetGalley in exchange for my honest review.