The Girl on the Train, by Paula Hawkins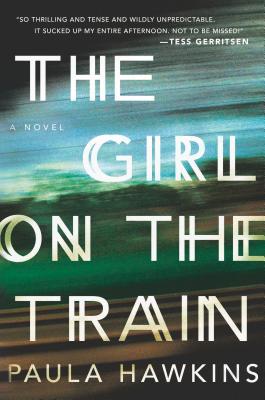 My Rating: ***** (5 of 5 stars)
Rachel Watson rides the train into London each day to get to work. Her train happens to stop across from one particular house almost every day, and Rachel has created imaginary identities, Jason and Jess, for the man and woman she sees frequently in their back garden. When Rachel hears the news about a missing woman named Megan, she soon realizes that Megan is her "Jess", and she becomes obsessed with finding out what happened to her.
The story is told from three separate perspectives – Rachel, her ex-husband's new wife Anna, and the missing woman, Megan. Each woman knows only a part of the story, and we are left to piece it together as we go. This book kept me on the edge of my seat from the first page right up to the very end. It's full of terrible people, pitiful people, and broken people. Both Rachel and Megan had me wanting to alternately shake them, and then give them hugs to comfort them. I felt emotionally exhausted after finishing the book, but I didn't walk away empty-handed. There are several life lessons to be taken away at the end.
1. Men are not to be trusted.
2. People are not always what they seem.
3. If he does it with you, he will do it to you.
4. Women are not to be trusted.
5. Alcohol can be your best friend and your worst enemy. Both at the same time.
6. Therapy can help.
7. Your memories are not to be trusted.
8. Life is pain.
9. People lie. (A lot.)
10. If you do everything right, nothing can go wrong. (Wait, I think that was supposed to say everything…)
Although I really enjoyed this book, I think it's time to read something a little more light-hearted! 🙂 Review of "Oh Say Can You Fudge" will be coming soon.
Buy from Amazon
Buy from Barnes and Noble