Ten Books I Plan To Have In My Beach Bag This Summer
Top Ten Tuesday is hosted by The Broke and the Bookish. Every Tuesday they post a new Top Ten list prompt. This week's list is the Top Ten books I plan to have in my beach bag this summer.
I'm not much of a beach person since I don't like the heat, but these are the books I'm looking forward to reading on vacation this year.
I'd love to hear what you're looking forward to reading this summer too! Let me know in the comments, and if you have a blog, why not write your own Top Ten list? Just be sure to link back to The Broke and the Bookish, and feel free to leave a link to your post in the comments here, too.
Note: All book descriptions from Goodreads
1. Eeny Meeny by M.J. Arlidge (Helen Grace #1)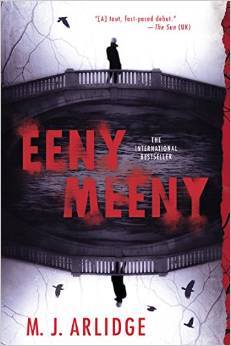 This one is due out soon (6/2) and I can't wait to read it!
Two people are abducted, imprisoned, and left with a gun. As hunger and thirst set in, only one walks away alive. (read more)
2. The Book Stops Here by Kate Carlisle


Brooklyn Wainwright is thrilled to be appearing on the San Francisco edition of the hit TV show This Old Attic as a rare-book expert and appraiser. Her first subject is a very valuable first-edition copy of the classic children's story The Secret Garden, which is owned by a flower vendor named Vera. (read more)
3. The Forgotten Room by Lincoln Child (Jeremy Logan #4)


One of my favorite authors!
Jeremy Logan is an "enigmalogist"—an investigator who specializes in analyzing phenomena that have no obvious explanation. In this newest novel Logan finds himself on the storied coastline of Newport, Rhode Island, where he has been retained by Lux, one of the oldest and most respected think tanks in America. Just days earlier, a series of frightening events took place in the sprawling seaside mansion that houses the organization. One of its most distinguished doctors began acting erratically—violently attacking an assistant in the mansion's opulent library and, moments later, killing himself in a truly shocking fashion. (read more)
4.  Centralia by Mike Dellosso


Pub date 6/1
Peter Ryan wakes up on a typical morning only to find his house empty, his wife and daughter nowhere to be found. His world is shattered after a phone call to a friend confirms the impossible: his wife and daughter died in a car accident he does not remember. Haunted by faint memories and flashes of details, Peter becomes convinced that something isn't right…(read more)
5. Farmed and Dangerous by Edith Maxwell (Local Foods Mystery #3)


Because who doesn't like to read about cold weather when it's 90 degrees outside? 🙂
Snow is piling up in Westbury, Massachusetts, and Cam Flaherty's organic farm has managed to survive the harsh New England winter. Unfortunately murder seems to be the crop in season…(read more)
6. Murder Freshly Baked by Vannetta Chapman (Amish Village Mystery #3)


Everything I love in a book – mystery, and PIE! 
The Amish Artisan Village in Middlebury, Indiana, has been decorated with every color of balloon and flower for the Race for a Cure. As manager of the Village, Amber Bowman is thrilled to see the turnout–and relieved to have something to distract her from the "Poison Poet"–an individual who has been sending notes containing bad poetry to warn of poisoned baked goods. (read more)
7. Second Life by S. J. Watson


I loved Before I go to Sleep, and can't wait to read this one.
She loves her husband. She's obsessed by a stranger.
She's a devoted mother. She's prepared to lose everything.
She knows what she's doing. She's out of control.
She's innocent. She's guilty as sin.
She's living two lives. She might lose both . . .
8. The Rhyme of the Magpie: A Birds of a Feather Mystery by Marty Wingate


…the past is front and center when her father, Rupert, tracks her down in a moment of desperation. Julia refuses to hear him out; his quick remarriage after her mother's death was one of the reasons Julia flew the coop. But later she gets a distressed call from her new stepmum: Rupert has gone missing. Julia decides to investigate—she owes him that much… (read more)
9. The Wrong Man by Kate White


Pub date 6/16
New York Times bestselling author of Eyes on You and The Sixes delivers a compelling thriller of mistaken identity and psychological suspense about an accomplished career woman who thinks she's met the man of her dreams–but instead he turns out to be her worst nightmare. (read more)
10. Remember Me This Way by Sabine Durrant


Lizzie loved Zach. She really did.
But she's starting to realise she didn't really know him.
Or what he was capable of . . . (read more)