Eeny Meeny by M.J. Arlidge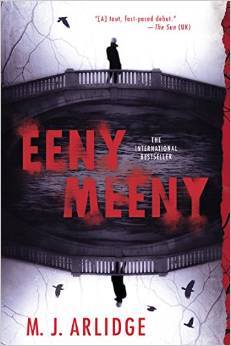 Helen Grace series #1
Genre: Mystery / Thriller
My Rating: *** (3 of 5 stars)
"Two people are abducted, imprisoned, and left with a gun. As hunger and thirst set in, only one walks away alive."
***NOTE: I was provided a free copy of this book from Netgalley in exchange for an honest review***
Detective Helen Grace is lead investigator in what at first seems to be a single unusual murder case, but turns out to be only the first strike by an deranged serial killer. Two victims at a time are kidnapped and locked up with no food or water. They are left with a gun and a message. When one of them is dead, the other will be set free.
Eeny Meeny is a very fast-paced police procedural / thriller story. The characters are not very likable, even the good guys, and that usually would have made me dislike the book. I found it to be very well-written and suspenseful though, and couldn't put it down. The chapters are very short, sometimes as little as two pages, and each chapter moves between points of view. In another story this might have felt jarring or confusing, but in this case it only added to the tension. I was a little too disturbed by some of the details regarding what the captives went through, as well as with some of the characters' personal lives, or I would have rated this higher.
If you enjoy edgy, suspenseful thrillers and don't mind some gruesome details, give this one a read.
Warnings: some descriptions of sex, torture and violence, abuse
Purchase from Amazon
Purchase from Barnes and Noble