Station Eleven by Emily St. John Mandel
Read by Kirsten Potter
Condensed Goodreads description: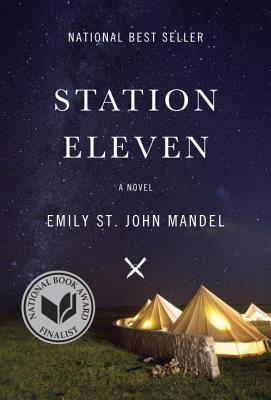 An audacious, darkly glittering novel set in the eerie days of civilization's collapse, Station Eleven tells the spellbinding story of a Hollywood star (Arthur), his would-be savior (Jeevan), and a nomadic group of actors (including Kirsten) roaming the scattered outposts of the Great Lakes region, risking everything for art and humanity.
Spanning decades, moving back and forth in time, and vividly depicting life before and after the pandemic, this suspenseful, elegiac novel is rife with beauty. As Arthur falls in and out of love, as Jeevan watches the newscasters say their final good-byes, and as Kirsten finds herself caught in the crosshairs of the prophet, we see the strange twists of fate that connect them all. A novel of art, memory, and ambition, Station Eleventells a story about the relationships that sustain us, the ephemeral nature of fame, and the beauty of the world as we know it.
Genre: Fiction / SciFi / Dystopian
My Rating: **** (4 of 5 stars)
This is an instance of a book cover catching my attention, and refusing to let it go. I started seeing this one first in magazines, and then bookstores and websites all over the place until I decided I had to read it. I had the impression that it took place in a post-pandemic world, but that was about it. I'm glad I didn't read the book blurb more carefully because I don't think that I would have been interested in the story of a Hollywood star and a band of traveling actors. I would probably not have picked it up, and I would have missed something beautiful.
This book is, at its heart, a story of survival and resilience. It starts at a point in time just as the flu pandemic is beginning. We meet a variety of individuals at a performance of King Lear, and then follow several of them both forward and backward in time, learning about their past, and watching as their futures unfold in the new world. The author's main focus is on the characters, what drives them, what mattered to them before the collapse of civilization and afterward, and their personal relationships more than the disaster itself.
Kirsten Potter does an excellent job with the narration – her voice and timing were a pleasure to listen to.
I thoroughly enjoyed this audiobook and would recommend it to fans of almost any type of fiction or word lovers in general. It was so full of memorable quotes, that I caught myself jotting them down to read later, and that isn't something I normally do. Since I have them though, I'd like to leave you with a few of my favorites…
"Hell is the absence of the people you long for."
"It was gorgeous and claustrophobic. I loved it and I always wanted to escape."
"What I mean to say is, the more you remember, the more you've lost."
"First we only want to be seen, but once we're seen, that's not enough anymore. After that, we want to be remembered."
"She had never entirely let go of the notion that if she reached far enough with her thoughts she might find someone waiting, that if two people were to cast their thoughts outward at the same moment they might somehow meet in the middle."
"There are certain qualities of light that blur the years."