What are you reading Wednesday – 8/5/15

What Are You Reading Wednesdays is a weekly meme hosted by Its A Reading Thing. To participate, open the book you are currently reading to page 34 (or 34% in your ebook) and answer these three questions. Feel free to leave your answers or a link to your blog post in the comments.
The Questions are:
1. What's the name of your current read?
2. Go to page 34 in your book or 34% in your eBook and share a complete sentence. (or two!)
3. Would you like to live in the world that exists within your book? Why or why not?
1 – This week I have an advanced reading copy of House of Thieves by Charles Belfoure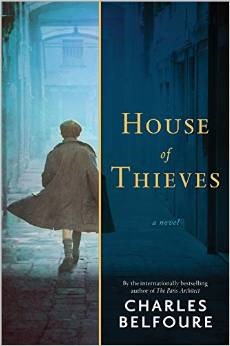 Available September 15, 2015 from Sourcebooks Landmark
2 – When you present your calling card to the butler, Julia, you must wait to see if the lady of the house will receive you. If the butler tells you, "She's not at home to callers", that's perfectly acceptable. Don't take it as a slight.
3 – I love reading about 1880's New York and the ins and outs of society, and I wouldn't mind cruising around town in a horse drawn carriage. I don't think I would want to stay forever though. I would miss too many modern conveniences, especially my air conditioning and my Keurig brewer…. 🙂