What are you reading Wednesday – 8/12/15

What Are You Reading Wednesdays is a weekly meme hosted by Its A Reading Thing. To participate, open the book you are currently reading to page 34 (or 34% in your ebook) and answer these three questions.
The Questions are:
1. What's the name of your current read?
2. Go to page 34 in your book or 34% in your eBook and share a complete sentence. (or two!)
3. Would you like to live in the world that exists within your book? Why or why not?
Now for my answers this week…
I've been a little slow this week. I'm still reading House of Thieves by Charles Belfoure, which was my last What Are You Reading Wednesday post. Instead of repeating myself, I'll leave the link to my previous post in case anyone would like to see it, and share a giveaway for the book instead. I hope you'll still tell me what you are reading, or leave a link to your post this week!
***GIVEAWAY Ends Wednesday, September 30th***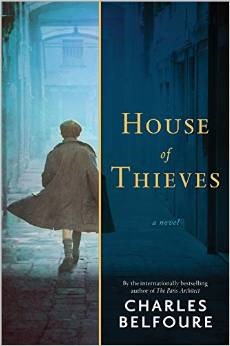 HOUSE OF THIEVES (ON-SALE: September 15; 978192617891; $25.99; Hardcover)
Sourcebooks Landmark is holding a Rafflecopter giveaway for signed copies of the book and some other great prizes. Click the cover image to go to the entry page.
Grand Prize (1): barware set with everything you need to make a Manhattan cocktail
Second Place (5): set of 4 cocktail glasses
Third Place (10): Copy of House of Thieves, signed by Charles Belfoure
Good luck!!