House of Thieves by Charles Belfoure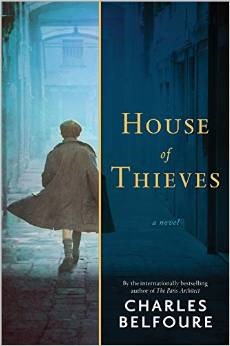 Available September 15th 2015 by Sourcebooks Landmark
***Don't miss a chance to win a copy in the giveaway hosted by Sourcebooks – ends September 30!***
Genre: Historical Fiction
Rating **** (4 of 5 stars)
How far would you go to save the life of a loved one? That's the question that architect John Cross is forced to ask himself after being confronted with evidence of his son's gambling problem and subsequent debt. The amount is more than his son, or he himself, could ever hope to repay. To keep his son from being killed by the gang holding the debt, John uses his specialized knowledge of local buildings to help the gang plan burglaries, with the understanding that with each job, some of the debt will be forgiven.
I admit that I was expecting a little more of a mystery element after reading the blurb, but even without the mystery this book takes you on an enjoyable trip to the past. The story takes place in New York, 1886, and is rich with descriptions of society life, rat baiting, etiquette, gambling dens, and almost anything else you might want to know about the time period. I did like the way that almost every member of John's family, without his knowledge, flaunted tradition and expectations to pursue happiness in their own way, even though to be found out would have meant their ruin and social outcast. It was hard not to root for them even when you knew they were doing wrong.
If you are a fan of historical fiction (or if you enjoyed the movie Gangs of New York 🙂 ), then I highly recommend this one.
Note: I was provided with a free copy of this book from NetGalley in exchange for an honest review.