Shadow and Bone by Leigh Bardugo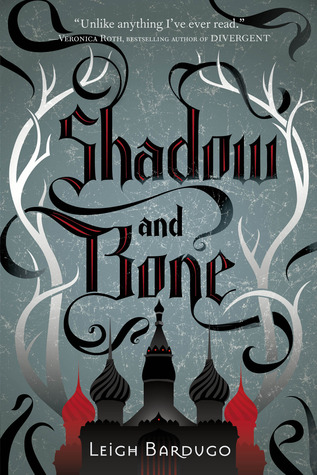 Description from Goodreads:
Surrounded by enemies, the once-great nation of Ravka has been torn in two by the Shadow Fold, a swath of near impenetrable darkness crawling with monsters who feast on human flesh. Now its fate may rest on the shoulders of one lonely refugee.
Alina Starkov has never been good at anything. But when her regiment is attacked on the Fold and her best friend is brutally injured, Alina reveals a dormant power that saves his life—a power that could be the key to setting her war-ravaged country free. Wrenched from everything she knows, Alina is whisked away to the royal court to be trained as a member of the Grisha, the magical elite led by the mysterious Darkling.
Genre: YA Fantasy
Rating: **** (4 of 5 stars)
Shadow and Bone is a Russian-esque fantasy, from the landscape and building design, the ranks of both the soldiers and the Grisha, right down to the character and place names. This similarity to something at least slightly familiar had the effect of making the whole world, and the magic contained within it, even more believable to me. I love when I am able to become so completely immersed in a fictional world that I can almost forget it isn't real.
I liked Alina from her first appearance as a young orphan. She's smart and wily, and it seems like she is the one instigating if she and her friend Mal end up in trouble. She's neither whiny, nor arrogant and entitled like she could have been growing up an orphan in a Duke's home. Rather than feel sorry for herself, she grows into a young woman willing to accept the life that she's been given, never thinking of herself as anything particularly special. She isn't perfect; she can be naive, but then learns from her mistakes.
I have to admit that I knew almost nothing about this book going in. I was attracted to the cover (which I kept seeing everywhere), so when Barnes and Noble had the Nook book on sale, I decided I'd finally check it out. What I found was a tale of friendship, betrayal, love, loss, and adventure. I wasn't disappointed, and if you are a fan of Young Adult, Fantasy, or are just looking for a unique adventure, I don't think you will be either.
Note – There is a loooooooong excerpt from book #2, Siege and Storm, included at the end of the Nook e-book, so I am already hooked and will have to buy it soon! 🙂
Follow Author Leigh Bardugo on Social Media
Twitter | Facebook | Web | Instagram