Siege and Storm by Leigh Bardugo
"I have loved you all my life, Mal," I whispered through my tears. "There is no end to our story." -Siege and Storm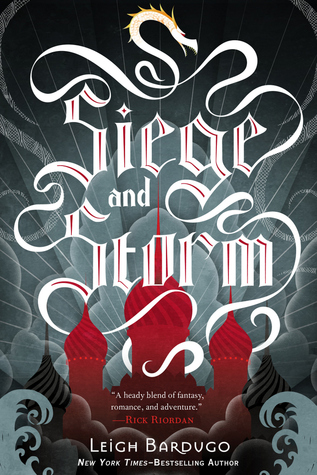 Description from Goodreads:
Hunted across the True Sea, haunted by the lives she took on the Fold, Alina must try to make a life with Mal in an unfamiliar land. She finds starting new is not easy while keeping her identity as the Sun Summoner a secret. She can't outrun her past or her destiny for long.
The Darkling has emerged from the Shadow Fold with a terrifying new power and a dangerous plan that will test the very boundaries of the natural world. With the help of a notorious privateer, Alina returns to the country she abandoned, determined to fight the forces gathering against Ravka. But as her power grows, Alina slips deeper into the Darkling's game of forbidden magic, and farther away from Mal. Somehow, she will have to choose between her country, her power, and the love she always thought would guide her–or risk losing everything to the oncoming storm.
Genre: Young Adult / Fantasy
Rating: **** (4 of 5 stars)
This is book #2 in the Grisha series, and now that I've finished, I can't wait to pick up Ruin and Rising to see how it all ends. This continuation of the story started in Shadow and Bone has Alina running from the Darkling, the Apparat, and at times even trying to run from her own power and the person she is becoming.
**Mini-sort-of-spoiler alert! If you haven't read the book but plan to and don't want to know anything about it, then skip this paragraph!**  Without giving too much away, here is the story in a super-condensed nutshell: Alina and Mal flee the Darkling, befriend a Prince, make their way back to the Little Palace, Alina takes over the 2nd Army, Mal mopes, they survive yet another attack, and end up back on the run. **end spoilers**
I thought the author did a good job keeping the dynamics between the characters from getting stale while still keeping them believable. Whenever there is a romance (especially, it seems, in YA), there has to be some type of conflict to keep it interesting if it is going to span a series. Here there is conflict both within Alina's inner circle and from without, which keeps it interesting and keeps the story flying along at a fast pace. If I had more a little more time to read, I'd have finished this one in a weekend.
It's also a very attractive book – I love the little flourishes and the alternate font at the beginning of every chapter! 🙂
If you are a fan of young adult fantasy, I highly recommend this series so far. If you've read it, I'd love to hear your thoughts as well!